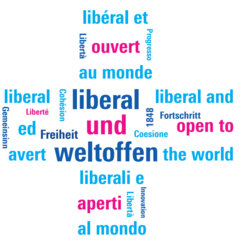 Portrait of the FDP International
Liberal and Cosmopolitan

The sun never sets for the FDP International.
We represent a cosmopolitan liberalism and address ourselves to everyone who identifies with our values.
As the international section of the Swiss liberal party FDP we are the political home of the liberal Swiss abroad. We stand up for their specific concerns in the party as much as in Parliaments and with the Authorities. We actively represent our liberal solutions within the SwissCommunity of the Swiss Abroad.
The exchange of information and opinions is important to us all. We will keep you up to date on the positions of the FDP party as well as on current political issues in Switzerland – but communication is not a one-way street. Thanks to your experience in your country of residence you may enrich the party and Swiss politics with valuable ideas and activities.
The FDP International also helps the party by maintaining international political relationships and networks. We are active namely in the frameworks of Liberal International and the european ALDE party.
You may well become a member of the FDP International as:
Swiss citizen living abroad
Swiss or foreign resident in Switzerland
Member of a liberal partner organisation worldwide
Thank you for your kind interest and participation – for more information please contact our members of the Board or Management and our international Representatives at any time.